Drone Detection & Tracking Software

AirGuard by 911 Security is a drone detection software platform that provides actionable insights on the drones that are flying around in your airspace. Real data helps your team to set up the correct safety and security measures to properly secure your airspace from aerial drone threats.
Capabilities of AirGuard Drone Detector
The AirGuard drone detection software platform utilizes various RF sensors that collect data on drones flying in the air. The AirGuard platform manages all sensor data and displays it in one easy-to-use interface.
If a drone enters your area, AirGuard gives you Real-Time Data about the Drone's GPS Location, the Pilot's GPS Location, and Drone data like Make and Model, Altitude, and Speed.
AirGuard has a robust Flight History & Playback feature so that you can access all past drone incidents.
AirGuard is scalable based on client requirements and budget. AirGuard can cover one site, multiple sites, or even the entire city. It can utilize single or multiple sensors based on the client's security needs and budget.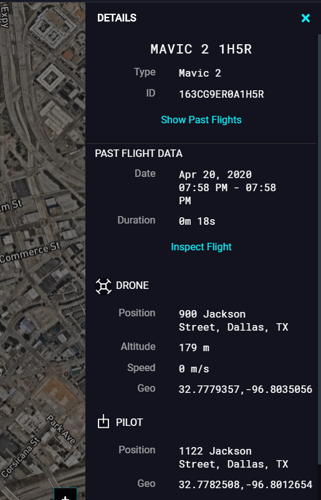 Flight History & Playback
AirGuard saves all flights that take place in your area and makes them accessible in the Flight History. Here security personnel can replay the flight path of any flight that has taken place.
You can download the flight path video and all the drone information related of a particular flight to log as evidence.
AirGuard drone detection software issues real-time alerts (via pop-up, email, and text) for pre-defined scenarios, like a drone entering an 'alert zone' area
Whitelist authorized drones (Media, Operations, Inspections) to fly freely without triggering an alert in the AirGuard platform.
AirGuard also lets users blacklist drones that have been banned or marked as repeated offenders. create alert rules that allow them to track blacklisted drones outside their normal 'Alert Zones' giving them additional time to react.
Hardware layers that power the AirGuard Drone Detection Software Platform
Hardware layers that power the AirGuard Drone Detection Software Platform
Layer 1 – RF Detection

AirGuard's Layer 1 is powered with DJI's Aeroscope RF sensor. With this Layer, AirGuard can detect and track all DJI RF Drones. DJI RF Drones make up about 80% of the potential drone threats because DJI has the largest market share of any drone manufacturer.

AirGuard's Layer 1 provides accurate GPS location of all DJI RF drones, and the pilot GPS location for certain DJI drones. Both Drone GPS Location and Pilot GPS Location can be tracked in real-time.

AirGuard's Layer 1 also provides many other drone telemetry data like speed and altitude for DJI RF Drones.

Layer 2 – Expanded RF Detection

AirGuard's Layer 2 is powered with DJI Aeroscope RF sensor coupled with other Directional RF sensors. DJI Aeroscope detects DJI RF Drones, and the Directional RF sensors detect RF drones from other drone manufacturers.

Using two types of RF sensors allows AirGuard's Layer 2 to detect and track about 95% of all drone threats.
AK, HI, WA, OR, ID, MT, WY,CA, NV, AZ, NM, UT, CO

Things You Need To Know About
60-Day
Airspace Risk Assessment
A drone in your airspace may pose a serious threat. Organizations are becoming aware of the risks drones pose to people, infrastructure, and confidential information. To help evaluate your airspace's risk, 911 Security offers a 60-day Airspace Risk Assessment to analyze drone threats.
AirGuard allows access to the following information for flights:
Flight Date

Flight Path

Flight Duration

Locations visited

Flight Purpose
Track your operations using AirGuard
Datasets can include the following information:
Drone GPS Location

Drone Pilot GPS Location

Drone Speed

Drone Altitude

Drone Flight Paths

Drone Make & Model
Datasets are available mostly for law enforcement, intelligence agencies and military applications.